Name:  Total Life Changes
Website:  www.totallifechanges.com
Price: $39.95 to $1,500 (buy a product monthly to stay active)
Owner: Jack Fallon
Bare Naked Scam rating: 3 Thumbs Down
#1 Recommended Online Business Training with Proof: Click Here
Total Life Changes – An Overview
---
I am pretty sure you are curious what Total Life Changes (TLC) is all about and whether you can make money with this opportunity. You are in the right place as I am going to share with you everything you need to know about the Total Life Changes opportunity so you can make an informed decision.
Founded and marketed as a company called SeAcai by Jack Fallon many years ago, the company has since re-branded as Total Life Changes in 2012. Total Life Changes have expanded tremendously over the past two years and I am getting many requests to do a review of this opportunity.
Don't get me wrong, the reason why I gave Total Life Changes a bad rating is not because it is a scam, it is because I do not find this opportunity suitable for beginners who want to make money online. One thing for sure is that Total Life Changes is a legitimate company and that their products are of good quality. You can rest assure that Total Life Changes is not a scam.
It is one thing about promoting TLC's product, it is another promoting a dream. Products are much easier to promote than a business opportunity. Not everyone is suitable to be in the MLM industry, you need certain kinds of characteristic to be successful in that industry.
I was in the MLM industry when I was a teenager, and I will be honest that I had lost a huge sum of money in many different MLM Companies. I have joined many direct selling MLM companies like World Ventures, Herbalife, Forever Living, Shopping Sherlock and many more, but none of them ever made me any money.
Those are not scam companies, they are legitimate companies like Total Life Changes. It is the nature of the business that cause 95% of the people to fail in the MLM industry.
Before I dive into the reason why many people fail in the MLM business, let us take a look at the business of Total Life Changes and its compensation plan.
One BIG problem that most MLM distributors face is the lack of New Customers. Learn how to source for New Customers Online through Affiliate Marketing. Click Here!
The Business of Total Life Changes
---
Total Life Changes as its name suggest promotes health and wellness products that could change your life in entirety. Products ranging from Nutritional supplements to skin care to weight loss. There is a wide range of products to promote in Total Life Changes. Take a look at the picture below:
One problem with the product page is that you can't find the ingredients of the product or its health benefit. I am an online shopper and I like to do my due diligence before I purchase anything online. If I want to buy a pack of premium coffee, I want to know at least the ingredients and health benefit to it. Unfortunately, if you see the image below about the Iaso Black coffee with Ganoderma, it did not show its benefits to me. There should at least be a link for me to discover what Ganoderma is and its benefits. Same goes for all the products in Total Life Changes.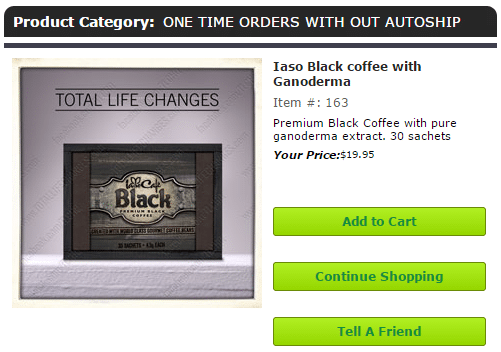 I know Total Life Changes is a direct selling company and its main strategy is face-to-face selling, however, given the advancement in technology, I believe Total Life Changes should upgrade itself to suit the needs of online shoppers.
Joining Total Life Changes
---
To join Total Life Changes, you need to provide a sponsor's ID (person who referred you) and purchase a product. The cheapest product you can find is "NUTRA BURST" at $39.95. Other products ranging from $44.95 to $1,500, it also depends on the quantity you buy.
To be honest, if you were not approached by a distributor who would explain the product and its benefits to you, you would probably not have any knowledge of the product and you would have paused at the sign up page.
So if you turn the table around where you are the distributor, your sales depend very much on your effort to meet with your friends and family to sell the products.
What I like about Total Life Changes is that there are no membership fee to be a part of the program, all you need is to purchase their product and you are automatically a member. To stay as an active member and earn commissions from the program, you have to purchase at least a product each month from Total Life Changes.
Compensation Plan
---
Should you join Total Life Changes?
---
The decision is yours to make but I will share with you why I do not recommend Total Life Changes or rather any kind of MLM business as an opportunity.
It is not suitable for anyone
When you join an MLM company as a distributor, you automatically become a salesperson. If you are not comfortable being a salesperson, then I would suggest that you avoid MLM. To be successful in the MLM industry, you need to have certain characteristics (for example: outgoing, strong minded, great communication skills, etc), if you lack in any of the characteristics, it can be nurtured but it will take an experienced and patient mentor to coach you.
Learn how to source for New Customers through Affiliate Marketing. Click here!
Training & Support
In all the MLM business that I had participated in several years ago, I always had the same problem which is lack of training and support. You are limited to the training your upline or sponsor provides (person who haa referred you to the program).
If you have joined the wrong team like I did in all my MLM ventures, you would have lost interest and quit evidently. Training and support is very important in any kind of business and if you do not have a top notch coach who is willing to take their time and effort to nurture you, then you are doomed to fail.
So I would suggest that unless you know someone who has the experience and patience to nurture you, I would suggest you avoid joining the opportunity.
Easy to sell products, Hard to promote an opportunity
During my MLM days, I managed to sell several products and was quite satisfied with my performance as a salesman, but when it comes to selling the dream, people start getting turned off. Not everyone is open to the idea of starting a business. If you think that everyone wants to start their own business and become financially free, then you are so wrong.
Out of the 10 people you find on the street probably only one will be open to your idea.  Everyone wants to be rich, but not everyone is willing to take the risk to be rich, that is the ugly truth of life.
Limited customers
Especially in the Direct Marketing MLM, your first task as a distributor is to list down people who would potentially buy your products or join your business opportunity, thereafter, you will start calling your list and fix an appointment with them to share your opportunity.
What if you have a small list of people and you have run out of people to call, what would you do then? Search "yellowpages"or buy phone numbers from phone companies to make cold calls? Go door to door sales? Give out flyers?
After years of experience in Internet Marketing, I know the power of the Internet as there are endless amount of prospective customers. I am never limited to my circle of friends and family and will always be communicating with new people every day.
Discover the tips and tricks to source for New Customers
My Sincere Advice to You
---
If you have the tenacity to build a successful MLM business, then I would suggest you start with Total Life Changes because there are no membership fee and its products are definitely beneficial to you. However, if you are not cut out to be a salesperson or do not wish to be one, do not give up hope on making money online because there are many ways you can be successful online without selling.
I, personally, am not cut out to be a salesperson, but I found my way of success through Affiliate Marketing. If you want to know more on how I make my money, you may want to check out my #1 Recommended online business. Through that course, you will be setting up your very own online business and will be well positioned to make a living online.
As always, I invite you to share your thoughts on Total Life Changes with me, I will be more than willing to discuss it with you. All you need to do is leave a comment below. If you feel my article aided you in your decision, please, help to share it by clicking on the social media buttons below.
Your pal,
Jack