The Super Affiliate Network Review
Name: The Super Affiliate Network
Description: YouTube is saying SAN is the best program ever, while Google says differently. This Super Affiliate Network review will expose the darkest secrets of SAN.
The Super Affiliate Network Opportunity Rating
What I've Learned from other Super Affiliate Network Reviews
I bet you've read many Super Affiliate Network (SAN) reviews before this.
And, if this is the first you've read, no worries!
I promise that you'll be equipped with the pertinent information to make the right decision.
I know your time is precious, so I won't beat around the bush.
If you have gone through as many SAN reviews like I did, you'll figure a general consensus across different networks (YouTube and Google)…
On YouTube, you'll see many SAN members promoting the program.
They give positive testimonials claiming that SAN is the best thing that happen in their life.
While on Google Search, you'll find a lot of non-SAN members claiming that this is a legit program, but…
They will not recommend it because the program has a lot of upsells.
Then, they will try to promote other programs like Wealthy Affiliate or AWOL Academy.
I'll be honest with you, any of these programs that you join, they provide you with an equal opportunity to earn money online.
But the real problem is, people don't stick around long enough to reap the rewards.
Everybody is chasing opportunities after opportunities, thinking that the next opportunity will be a better one.
My Story on How I Fired My Boss. Click to Read!
The Real Truth Behind the Gossip of The Super Affiliate Network
Now, I will share with you why reviewers on YouTube will promote The Super Affiliate Network, while the reviewers (the webmasters (1)/website owners) on Google will promote other programs.
Let's talk about the YouTube reviewers first…
Why YouTubers will promote SAN?
This is part of the training program in The Super Affiliate Network.
SAN teaches people how to generate traffic from social media networks like Facebook, YouTube, Twitter, etc.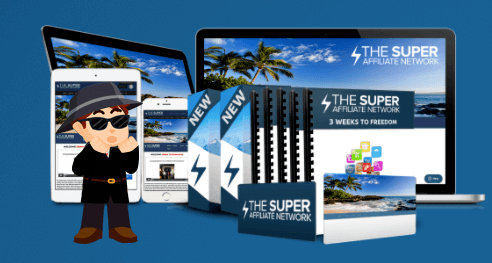 However, the main focus of The Super Affiliate Network isn't about building an authority website and getting organic traffic from Search Engines like Google.
Honestly, getting traffic from YouTube and Facebook is much easier than getting traffic from Search Engines.
Don't you agree that it is much easier to set up a Social Media profile and build content around it?
So, people who are a part of the SAN will obviously want to promote the program, because…
They believe that the program works for them;
They can earn a commission when they refer you to the program. This is called Affiliate Marketing.
Now you see why there is an incentive to create a positive review about the SAN on Social Media Networks.
Why Bloggers will not promote SAN?
Back to the webmasters who've built websites to get ranked in Search Engines like Google.
Obviously, they didn't get the training from the SAN, but they've got success through other programs.
Them getting their websites ranked on Google Searches shows a small part of their success through their training somewhere else.
So, they have an incentive to drive traffic through Google search terms like "The Super Affiliate Network Review" or "The Super Affiliate Network Scam", and they will "convince" you that the program which made them successful, is the best solution for you, not SAN.
And, if you join the program that the webmasters recommend, they will earn a commission through their promotion efforts. This is Affiliate Marketing as well.
So, who is right and who is wrong? Honestly, nobody! Both sides have good reasons to promote their programs.
As I've mentioned, whatever programs that you join, as long as they do provide high quality training and support, it can potentially earn you money.
The problem is, people don't stick around long enough, and they are not consistent with their efforts.
*The Big Difference between The Super Affiliate Network and other programs will be discussed below.
I'll be honest as well, I achieved success through Wealthy Affiliate, not because it is an awesome training platform (which it is), but because  I was consistent.
Being a Wealthy Affiliate member, it doesn't mean that I will trash other programs just to get you to sign up with Wealthy Affiliate.
That's unless the program is really a trash, and gladly, SAN isn't.
I will share with you the #1 difference between SAN and its competitors in just a bit.
The Real Super Affiliate Network Review
Now that the truth is out there, let's take a look at what you'll get with the SAN membership.
The Super Affiliate Network's focus is on driving paid traffic through social media networks, solo-ads and email marketing.
They have no focus on building Authority Sites as well as driving free organic traffic from Search Engines.
If you compare the stuff that SAN teaches against the stuff that are taught in Wealthy Affiliate and AWOL Academy, you'll see a BIG difference in terms of the traffic generation methods.
Let me break this down for you…
In the SAN, the make money concept will look like this:
Basically, 90% of the work is done-for-you because the SAN has created an automated sales funnel.
All you have to do is to send the right traffic to the sales funnel.
The SAN focuses on driving paid traffic because it is the fastest and with the least effort.
But, this method comes with a certain risk.
Now, let's see what Wealthy and AWOL teaches…
Obviously, it will take more time to earn money through the methods of Wealthy Affiliate and AWOL Academy.
However, it will cost much lesser than the SAN.
The contrast of both methods of making money online can be summarized into this table:
Read the Wealthy Affiliate Review and make an informed decision!
The Super Affiliate Network Walk Through
Every new SAN member will go through the same steps.
Upon signing up to the membership, you'll automatically be assigned to a coach.
And, you'll receive an email from your coach shortly after.
The system is designed so that you'll constantly be in contact with your coach.
And, the training is Bootcamp style, which means that you'll have to go through a step-by-step process.
You will not have full access to the system, instead, you will be drip fed with information.
How fast you unlock the training modules will depend on your progress with your coach.
This is good in a way for beginners to get started because they will not feel overwhelmed.
But at the same time, some people will feel a little irritated by this method.
Some might think that SAN is trying to hold them back so that they will have to pay for the next month's subscription.
What will you learn and how much does it cost to join the Super Affiliate Network?
The Super Affiliate Network Membership ($37 per month or $1 trial + $47 per month) – Consist of 21 Modules which is separated into 3 phases. It teaches you about mindset, psychology, selling, list building, automation, email marketing.
The Premium Membership ($97 one time fee – Upsell at checkout) – teaches the "Solo Ad Success Formula" that goes deeper into email marketing and finding the right solo ad provider.
The Super Affiliate Monthly ($47 one time fee – Upsell at checkout) – A monthly video newsletter hosted by Misha Wilson where he will show you up-to-date marketing strategies
The Pro Membership ($2,497 one time fee) – You'll gain access to every product mentioned above, and several courses created specifically for the Pro Membership, "Authority Hacking", "Systematic Profits", "Solo Ad Success Formula", "Magnetic Selling Machine", "Push Button Swipe File Collection" as well as the access to any future courses.
Maui Intensive Mentoring ($12,497 one time fee) – 4 day event where you will get intensive training on how to build marketing funnels, webinar presentations, sales machines, emails and more.
What I didn't like about the SAN: Solo Ads (My experience may differ from yours)
Solo Ad is a big part of the training in the SAN. It is basically a paid method to drive traffic to your offers.
I, for one, have taken part in a Solo Ad campaign which didn't work out.
In fact, I've bought traffic from what most Marketers claimed to be the best Solo Ad provider on the market.
Here's my experience…
I've paid $700 to $800 to buy 500 hits (not leads) to my landing page.
The Solo Ad provider guarantees a 30% leads to my email list, which is 150 qualified leads.
I would say that my email marketing campaign converts at 10% with my own traffic methods.
This means that out of the 150 qualified leads, I should get around 15 sign ups.
However, I didn't get a single signup from the Solo Ad leads.
What does it mean? It means that those leads are not highly targeted at all.
There's definitely a risk when you sign up to a Solo Ad campaign because you wouldn't know where the Solo Ad provider gets the traffic.
In my opinion as an Internet Marketer, it is super important to understand how a lead gets in contact with your marketing materials.
You wouldn't know how to convert the lead into a customer unless you know where they are in terms of the customers' journey.
But, this is just my personal experience. Maybe the SAN can provide you with a comprehensive training to find the right Solo Ad provider?
Fired my boss and work Full-time Online. Read my story!
How much can you earn as a SAN Member?
Essentially, this is a pay to play type of compensation plan.
Which means that you have to own the product in order to earn the commission from that product sale.
But of course, you don't have to go "all-in" and get the highest level of membership. That's definitely not recommended.
As much as you are leaning towards the PRO membership or the Maui Intensive Coaching Program, I'll suggest that you first learn the stuff from the front end membership.
Then, when you start earning some money you can purchase the higher tier products.
If the stuff in the front end membership doesn't bring you the money, then why spend even more on that program, right?
People who join the PRO membership or the Maui Intensive Coaching Program should be those who are seeking to expand their business.
In my opinion, the higher tier products are not meant for people who are just getting started.
Now, if you think that the cost of the SAN PRO membership and the extravaganza is too much for you…
… and, you'll really want to learn the ropes of internet marketing, then I'll suggest that you check out Wealthy Affiliate.
Why? Because there's simply no upsell and it doesn't cost much to join.
Best of all, you'll unlock every piece of advance internet marketing material and tools all for one price.
My Sincere Opinion
If you are ready to spend a good sum of money (probably thousands of dollars on the Re-seller program, and paying for traffic) to promote the SAN membership, then The Super Affiliate Network is the program for you.
In my opinion, the Super Affiliate Network is a good program to join, but it is super expensive.
As I've mentioned, in any kind of program that you join, you'll need to stick around for a very long time.
And in the case of the SAN, you'll need some extra cash to keep the business running (money to buy traffic).
Now, if you think that The Super Affiliate Network is not the program for you, I am sure by now you already know what I promote.
You can read the Wealthy Affiliate review here.
As I've mentioned, Wealthy Affiliate is the program that got me to eventually fire my boss after years of hard work.
If you are interested to know my story, here it is.
I hope that I've given you the information you need to make an informed decision.
Thank you so much for reading this review!
If you find this review helpful, please, help to share it on Facebook and Twitter.
And, if you'd like to discuss more about The Super Affiliate Network, please, feel free to leave a comment in the comments section below.
Your pal,
Jack